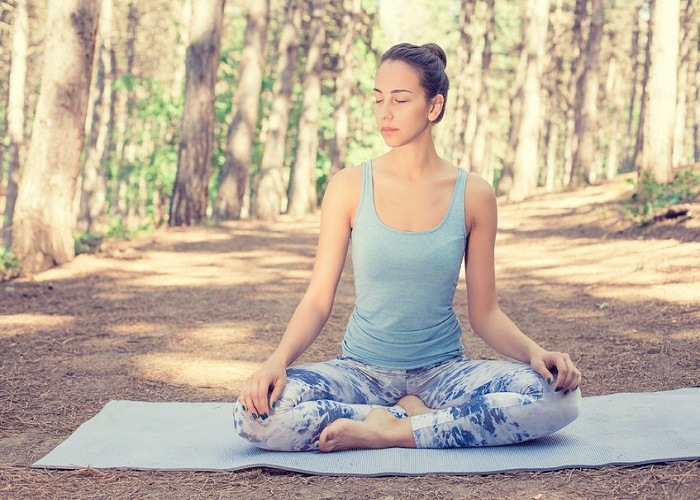 Meditation is meeting eternity in the present moment. It is resolving every problem as it comes. It is resolving every tension as it creeps in. It is facing the challenges of life in a non-fearful way. Vimala Thakar
Are you suffering from a stressful and fatigue routine?
Do you feel helpless in controlling your emotions and long for emotional stability?
If yes then making meditation as a regular task in your daily living can address your desire of striking emotional and physical stability in your life.
The good thing about meditation is that it keeps you engaged with your present and assist in your journey of discovering internal peace within yourself.
Learning and practicing the art of meditation in your daily life can work as a magical tool to defeat pain and stress caused by the fatigue routine and infuse a new spirit in your life that makes you feel fresh and motivated.
As daily bath is necessary to keep your body clean in the same way daily meditation is a bath offered for your mind to keep your mind activities focused towards the achievement of your destiny.
To make yourself free from distractions is not an easy task at all, it requires a lot of hard work and regular practice of meditation makes the job easier for you.
To achieve the sense of peace in your daily life, you can take advantage of the tool of meditation.
Now the question that needs to be addressed is that how meditation proves to be effective for daily living?
Meditations help you to connect with the present moment and help in the fine tuning of your mind and enhance your performance in daily life chores.
Meditation is not at all a forced therapy, and you don't have to worry about getting good at it as it's all about getting good at life.
Meditation can be used as a tool to inject into our souls a deep source of positive energy and joy that enables us to deal with the tough routine of the day.
Different techniques of meditations help in the management of stress and mood swings that might occur because of the workload.
In order to create a strong connection between mind and body, we have to offer mind its food in the form of meditation to keep pace with the changing scenarios in the present and accordingly empower ourselves to deal with them.
The accumulation of negative thoughts is a problem we face on a daily basis. The best way to counter negativity is to treat it with regular practice of meditation.
The generation of the 21st century lacks peace of mind and true happiness and often indulges in the use of drugs and alcohol to find the peace that damages them more than anything else.
If you are in search of peace of mind and true happiness, then meditation is the best therapy for you as it will allow you to understand your inner self and infuse greater wisdom of your mission in life.
Meditation and mindfulness act as a neutralizing agent that calms your mind and the tired body and ultimately leads to a sound sleep by infusing a sense of satisfaction with your present.
Integrating meditation in your daily life can help you to deal with your relationships.
Peace and tranquility is a gift of meditation that increases our spiritual well-being and helps us to discipline our lives.
A fascinating thing about integrating meditation into your daily life is that it can play an effective role in changing the brain which can cast a positive impact on our general wellbeing and clarity of emotions.
A research was carried on two groups keeping one group as the control group.
The group which received meditation witnessed an increase in gray matter density in the hippocampus – an area associated with learning and memory.
The Workaholics often complain about the increasing physical pains in their body because of their tough and hard routine that effects their performance scale negatively.
The pain can easily be countered if you make meditation a regular practice because it helps in the thickening of specific areas of cortex that makes them less sensitive to pain signals.
Empirical research have found that meditation therapy can do wonders in terms of enhancing your concentration and peace of mind.
This empowers the individual to feel positive and contended with his life.
In this fast moving world, it is hard to keep pace with the principle of balanced health.
Now the question that needs to be addressed is: Is there any natural remedy to address our common pains?
The answer is yes! Meditation can be regarded as a provider of an instant relief for life problems.
Meditation can serve as an effective tool that makes you feel independent of yourself that leads you to enjoy your freedom.
Most of us suffer from mood swings and anxiety disorder i.e. our inability to strike an emotional control.
In order to strike an emotional control, it is necessary to have a strong hold on your mind.
The moment you opt for an activity of mindfulness, you pay attention to your negative emotions, and you will find that they will lose their strength and eventually die.
About the author:
Odette Cecilia, originally from Venezuela, learned intuitively to meditate through creative visualization. Her depth of spirit led to her interest in and love of the healing arts, and most specifically, the use of sound frequencies and music to enhance spiritual, mental, emotional, and physical well-being in others.
As a Sound Healing Meditation Therapist and Reiki Master, Odette has worked in the US and globally providing sound healing meditations. Odette Cecilia uses the harp, crystal singing bowls, Tibetan bowls, tuning forks, and other instruments in conjunction with guided visualization and meditation in the sound therapy that she offers to both individuals and groups. You can learn more about Odette at her website AwakeningSacredSpace.com.
The following two tabs change content below.
I'm interested in psychology & philosophy. I'm also an enthusiast of meditation & personal development. Thank you for visiting my blog and I hope that you'll find something interesting here.