iRest Yoga Nidra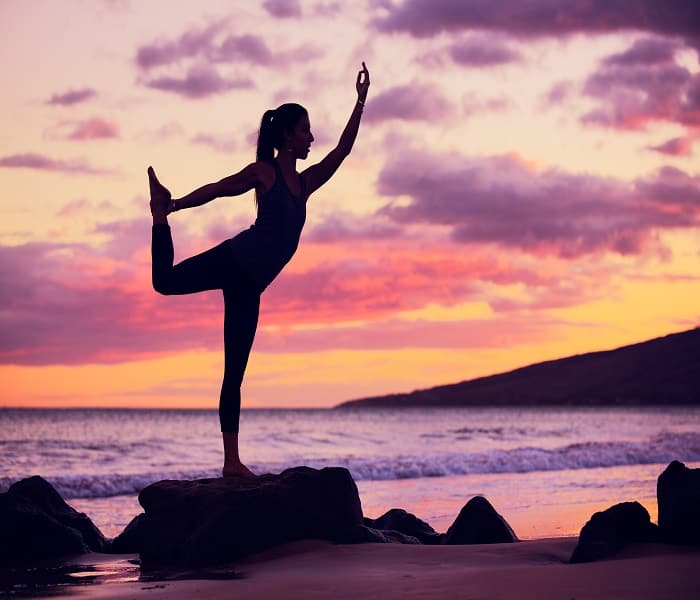 There's nothing worse than getting warmed up in your yoga class and all the sudden your sweaty hands and feet make you lose your grip. You can't hold a Downward Dog without slipping and you're afraid if things heat up any more and you get any sweatier that your slippery hands will slide right off the mat!
Don't give up your Hot Yoga membership just yet. Thankfully, there are several yoga mats out there that are designed specifically to be nonslip so you can continue going to your favorite sweat-inducing yoga classes.
Why does it matter if your yoga mat is nonslip?
There are several reasons why you want a nonslip, sticky yoga mat.
If you're prone to having sweaty hands and feet in your yoga classes, you're probably aware of how uncomfortable it can be to try to hold positions when your mat is slippery because of sweat.
It not only causes extra strain but not having a secure grip means you don't have the opportunity to explore proper alignment in your poses. It can also be dangerous, especially if you're already stretched to the max but your hands or feet won't hold out anymore and you end up overextending in a pose because your mat didn't secure your grip.
A good nonslip yoga mat lets you enjoy your yoga classes safely and comfortably. Nonslip mats come in a variety of materials, textures, thicknesses and styles, from rubber to TPE to cork, jute and even recycled wetsuits, there are dozens of amazing nonslip yoga mats out there to choose from.
We've done the research so you'll be able to find the mat that fits your yoga practice needs that won't have you slip-sliding your way through your next Vinyasa.
Rubber mats
Natural rubber mats are all the rage in the yoga world these days for their excellent grip and their eco-friendly stamp of approval.
However, they do tend to be a bit heavy so if you're not into breaking a sweat lugging your yoga mat around, you might want to choose a different material.
Also, they're on the pricey side, however, rubber mats have superior durability, so you won't need to replace them for years to come unlike the standard PVC mats that can wear out with just a few months of rigorous practice. Allergy caution: if you're allergic to latex, skip the rubber mats and choose another material.
Lululemon
Lululemon is adored by many yogis for their high-quality yoga clothes and their high-quality nonslip rubber yoga mats. Their reversible mat is particularly appealing as it offers two different textures and you can use one or the other depending on the style of yoga class you're taking.
One is smoother while the other has more texture and provides a more reliable grip for sweaty palms and feet. Their thicker version is 5mm, giving more comfort and cushioning for sensitive joints but without being so thick as to compromise balance.
The 5mm version is 71in. x 26in. and 5.55lbs, while their slimmer version is the same size but a mere 2.32kg.
While definitely more convenient to carry around, if you have sensitive joints, particularly knees, the slimmer version may not be the most comfortable mat for you.
Liforme
The king of nonslip rubber yoga mats with a price to match. Liforme makes a truly exceptional product. Made from natural rubber and with an eco-polyurethane, non-toxic top surface, the grip will hold you, even as you sweat through a Vinyasa or Hot Yoga class.
They're the pioneer of those alignment lines on the mat's surface to help you improve your practice and find your center more easily and now have awesome designs like the Rainbow and Phoenix and Dragon to not only give you amazing stability but also inspire you with awesome designs.
Their standard mats are 73cm x 27cm, a bit longer than the average mat, and at 5.5lbs, they're a lot to heft.
However, their 4.2mm thickness strikes the perfect balance between utility and comfort.
TPE
TPE stands for Thermal Plastic Elastomer which is basically a fusion of plastic and rubber. These mats are more eco-friendly than the standard PVC mats and are lighter in weight and cheaper than rubber mats, making them a great in-between option.
The TPE material offers great grip for sweaty hands and feet and it's less dense, so it'll dry out quickly after a grueling yoga class.
Gaiam
Gaiam is a yoga mat industry veteran and makes a variety of yoga mats from different materials, including TPE. Their nonslip, textured reversible TPE mats with 6mm thickness give you grip and comfort at a very economical price.
The closed-cell structure of their TPE mats help eliminate those unpleasant odors caused by germs and sweat, so you don't have to worry about the dreaded smelly yoga mat.
Cork mats
Cork mats are another eco-friendly yoga mat option, with materials harvested from a replenishable and non-toxic source: cork.
This naturally flexible material is ideal for non-slip yoga mats and provides the solid grip all yogis crave. Cork actually becomes grippier when wet, so for ideal traction when beginning your practice, spray or wipe with a damp cloth before stepping onto the mat.
Also, one of the best features of cork mats is that they can be thick and lightweight, so you don't have to sacrifice comfort for convenience. The material is naturally porous which means it will dry out quickly after a sweaty yoga class, however, you should be careful to lay it out to dry soon after class to avoid accumulated germs and sweat from generating unpleasant odors.
Yoloha
Yoloha, a family-owned cork yoga mat and accessories company committed to sustainability, offers a few varieties of their nonslip cork yoga mats and even offers carbon-neutral shipping for those who are extra committed to buying green products.
Their cork mats are available in the standard 72in. x 26x or the extra long 80in. x 26in. Their 6mm standard mat is a mere 2.8lbs, making it a perfect mat to cushion your joints without being inconvenient to transport. They have a variety of styles from solid colors to beautiful designs and even have the option of personalizing your mat for an extra $10.
Jute mats
Jute mats are made from natural fibers harvested in Asia and it is said that the original yogis used this material to make their mats to meditate and practice yoga.
Some find the natural fiber jute mats scratchy and uncomfortable while others appreciate the natural fiber's ability to make them feel more grounded. Jute mats are usually rubber mats that are covered in a jute material.
The jury is out on whether or not these mats are ideal for sweaty hands and feet, it really depends on the quality of the material used. The care for these mats can be a bit delicate so be sure to read care instructions before buying.
Lottus Life
Lottus Life makes a single, high quality jute yoga mat in two colors. Their jute mats are extra long (72in x 24in) and extra thick (8mm).
For anyone with sensitive joints, this is one of the thickest mats on the market. It's also ideal for those with a meditation practice who sit for long periods of time. Its naturally nonslip surface should see you through any yoga class without slipping up.
Wetsuit mats
There are many yogis who are surfers and many surfers who are yogis, so it was just a matter of time before the wetsuit yoga mat was invented.
Naturally nonslip and a yoga mat you can take to the beach, neoprene (wetsuit material) yoga mats are made from recycled wetsuits, making them ecologically friendly and sustainable.
Porous and durable, you'll be able to wash them and care for them in ways you can't with other yoga mat materials. Make sure they dry completely in between uses to avoid a yoga mat that smells like a stinky wetsuit.
Suga
This company offers high quality recycled wetsuit yoga mats. You can buy their standard yoga mat or opt for the Cradle to Grave mat that they guarantee will last a lifetime or you can send it back for a new one.
In regular (72in x 25in) or extra-large (74in x 26in) sizes and with 5mm thickness for all models, these mats are a comfortable and sustainable way to practice nonslip yoga.
GAIAM - Yoga Equipment & Supplies



Conclusion
If you've been looking for the perfect sticky yoga mat that will allow you to practice even the most rigorous style classes safely and hold your slippery hands in place, there are a variety of options and materials to choose from.
Even with sweaty hands and feet, you can still find a great yoga mat that will hold your grip and let you practice your vinyasa without sliding into the person next to you.
From the uber luxurious to the more economically-priced you can find nonslip yoga mats in a variety of prices, styles, thicknesses and with varying degrees of carbon footprints.
Choose which nonslip yoga mat is ideal for you and get back to practicing yoga with safety and security.
Yoga For Men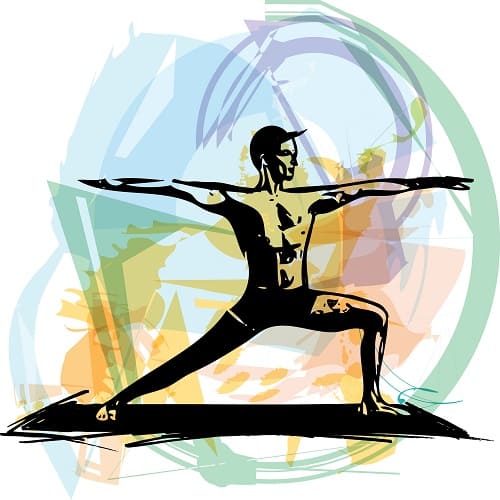 You may also be interested in:
2. How Often Should You Do Yoga to See Results?
3. Is Yoga Enough to Stay Fit?
7. How Long Do Yoga Mats Last?
The following two tabs change content below.
I'm interested in psychology & philosophy. I'm also an enthusiast of meditation & personal development. Thank you for visiting my blog and I hope that you'll find something interesting here.