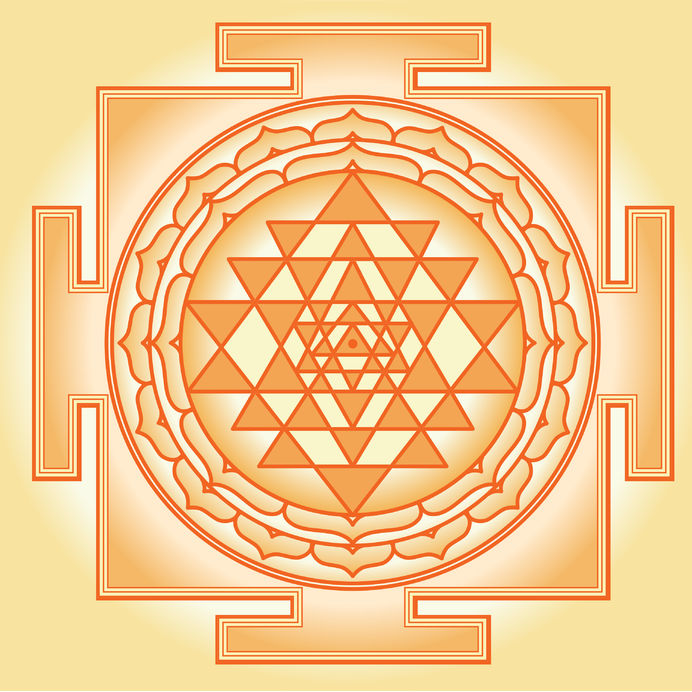 ​Tantra is a pathway, not just to sexual ecstasy but to personal healing and fulfillment. Andrew Barnes
Most of us have heard of Tantra, but that doesn't necessarily mean we know exactly what it is.
Western misconceptions have taken a few of the concepts and practices from this powerful spiritual tradition and promoted it as a sexual practice alone — but actually, tantra goes far deeper than that.
We've tried to understand tantra from a limited perspective, and in doing so we've neglected the incredible possibilities for transformation, self-understanding and personal development that a genuine and holistic tantric practice can provide.
It is a method with a focus on energy. The energy of desire — including sexual desire — is particularly powerful; and so in tantra that strong, aching energy is utilized to support the spiritual journey.
Sexuality and intimacy are a part of tantra, but it's not just erotica.
Tantra celebrates the beauty and freedom held within human sexuality, and harnesses this energy towards a spiritual goal. In this way, the body is a spiritual tool.
For those who are interested in exploring the sexual aspects of tantra, there are many resources available including tantric sexology books. These books delve into the intimate practices and techniques that are part of tantra, offering guidance and insights for those who want to explore this aspect of the tradition in more depth.
As teachers and authors make efforts to dispel modern myths about tantra and promote the true value of the philosophy and practice more people are accessing a more fulfilling practice.
Guides, wellbeing centers and healers are developing courses and workshops to help more people find their way into tantra; from regular classes to tantra festivals, and online tantra courses — like this one offered by the transformational education platform Mind Valley.
​So here's my carefully selected list of the best tantra books available right now to give you new insight into tantric tradition, whether you're a complete beginner or a seasoned student.
​
​1. Tantra Illuminated. The Philosophy, History, and Practice of a Timeless Tradition.
​This is an ambitious literary work which delves into the complex and intriguing history of tantra.
It provides a comprehensive understanding of tantric philosophy and a breakdown of misunderstandings which have taken hold since Western societies 'discovered' and eroticized tantra.
It highlights the sacredness of this ancient spiritual tradition and much of the knowledge shared here is translated directly from original Sanskrit sources.
At once inspirational and informative, it'll leave you with a thorough understanding of tantra and with a niggling desire to head to a tantra retreat to experience the power for yourself.
​2. Introduction to Tantra. The Transformation of Desire.
​This introduction to tantra looks at the practices and philosophy from the perspective of Tibetan Buddhism.
Written by a Tibetan Lama, it asks the big questions about what tantra is; who it's for; and how it should be practiced.
And it goes on to consider the potential outcomes of a tantra practice — including the benefits and risks, and the opportunities for spiritual, emotional and sexual connection with the self, with others, and with the universal energy.
It speaks of tantra as a method for utilizing the powerful energy of human desire and is an honest and unselfconscious account of the transformational work of tantra.
​3. Intimate Communion. Awakening Your Sexual Essence.
​American author David Deida writes about sexuality and spirituality, with particular concern for relationships between men and women and the ways in which masculine and feminine energies interact.
This bestselling text is a handbook for understanding your own intimate relationships on a more profound level.
Drawing on modern psychology and ancient tantric techniques, it teaches you how to create and maintain a fulfilling, spiritually erotic and truly passionate relationship with the person you love.
In addition, it will encourage you to open up to a more positive relationship with yourself — helping you to accept yourself, your emotions and your desires as healthy and positive.
​
​4. Tools for Tantra.
​This is a practical book for both beginners and experienced tantra practitioners to develop their practice toolbox.
It contains a series of tantric yantras, which are particular geometric formations which have been used by tantra yogis for centuries to reach self-realization and access the powers available within the deep self.
The yantras have been recreated with precision in this guide, along with actionable instructions for how to use them within a tantra session.
And along with this beautiful imagery and practical guidance, you'll find detailed information about the traditional Hindu ritual practices associated with the yantras — including meditation techniques and visualizations, and methods for balancing the body with the seasons and astrological cycles through Ayurveda.
​
​5. Yoni Shakti. A Woman's Guide to Power and Freedom through Yoga and Tantra
​As the majority of books on tantra are written by male authors, Yoni Shakti is a refreshing feminine take on the traditional texts.
Uma Dinsmore-Tuli is an academic and a teacher of tantra, known for her work with women and tantra healing.
In this book she draws together historical understandings of tantra with real life stories, poetic meditations, and philosophical debates to create a body of work which is inspiring and empowering for the female experience.
It will help women connect with their feminine power, sexuality and spirituality; and it will help men understand the innate source power of women too.
​6. Tantra. Path of Ecstasy
​Georg Feuerstein is a spiritual scholar who is well respected amongst yogic and tantra communities.
In this 1998 book, he tackles the topic of tantra as a fundamental aspect of Hinduism.
He explores the concept of shakti — the 'divine power' — and how it's thought to be a path towards perfect bliss, or ananda.
​Feuerstein is committed to breaking down Western misunderstandings about traditional Eastern practices, and this book is no exception.
He discusses how tantra has been confused with erotica and questionable morality, and how in fact it is a profound spiritual practice with links to Jainism and Vajrayana Buddhism as well as Hinduism.
A must-read for anyone interested in the cultural history of tantra.
​7. Kundalini Tantra.
​This book is a foundational text for those who want to understand tantra on a deeper level.
Written by an Indian swami and tantra guru who has taught students all over the world, it takes a traditional approach with emphasis on the history and cultural meaning of tantra.
But it is a practical guide too, explaining how tantra activates the chakras and the kundalini energy, and how to begin your practice.
The way the author weaves tantra together with other concepts — including chakras, kriya, and energy channels — reflects the way that tantra is connected with every other aspect of human spirituality.
All spiritual energies exist in relation with one another, and this book will help you understand how you can develop a practice which will bring those energies into optimum balance for wellbeing and personal development.
​8. Tantra. The Supreme Understanding
​Osho is a global spiritual teacher and the author of numerous books on spiritual practices which have sold millions of copies around the world.
Once controversial, he is now respected as a teacher of mindfulness and other inner sciences — including tantra.
In this bestselling title he uses his unique voice and expert guidance to share the complex roots and benefits of tantra.
As other authors have done, he takes a holistic approach, reminding us that tantra is not just about sex but about our way of being in the world.
A spiritually and psychologically liberating read.
​
​9. Tantra Made Easy: Discover the Path from Sex to Spirit
Tantra is an ancient tradition that helps us to weave our experience of the physical with our more subtle experience of the spiritual.
In this book, Tantra Made Easy, Shashi Solluna introduces a collection of sacred sexuality practices that help us to weave these two elements as they present themselves in our sexual lives.
The book covers Tantra as a spiritual path, techniques for opening the heart and exploring one's sexuality, and how to activate one's sexual energy for greater fulfillment.
Bringing it back to relationships, we are introduced to practices that help us to develop the sacred, intimate relationship the heart yearns for.
​
​10. Jewel in the Lotus: ​The Tantric Path to Higher Consciousness
The embodiment of tantric principles is an ancient path that has long been understood as a way of reaching a higher consciousness.
Diving into the ancient secrets and practices of the tantric tradition, Jewel in the Lotus is a comprehensive and systematic course that explores the science of Tantric Kriya yoga.
The teachings included guide readers to deepen their awareness of the inner world.
This awakening to the life force within helps us to enliven and guide the body's flow of vital energy.
Such an awakening of our creative, sexual energy leads us on a journey towards deeper sexual satisfaction, greater intimacy in our sexual relationships, and ultimately, towards union with the higher consciousness we seek.
​
​11. The Heart of Tantric Sex: A Unique Guide to Love and Sexual Fulfillment
The science and history of tantra has deep roots that stem from ancient texts and teachings passed down through the centuries.
In her book, The Heart of Tantric Sex, Diana Richardson makes these ancient teachings approachable, expressing this ancient wisdom in a modern and practical way.
Her words are compassionate, helping readers to open up to a topic that is often loaded with fear, guilt, and shame.
Through these teachings, we discover a way of exploring sexuality with greater peace, presence, and love.
Approaching these words and teachings from the heart, love grows as we deepen our understanding of what it means to be intimate. 
​
​12. Soul Sex: Tantra for Two
Tantra is something we can explore either on our own or with a partner, deepening awareness and intimacy no matter who we're with or not with.
Tantric techniques are, however, perhaps most widely sought out in the realm of intimate relationship.
When explored with a loving partner, these teachings have the power to greatly enhance our experience of sex and intimacy with another.
This book, Soul Sex: Tantra for Two, is dedicated to the exploration of tantric practice in pairs.
It offers insights and techniques that can help us to develop a deep and loving relationship with a significant other, helping to improve communication, contentment, and true intimacy.
​
​13. Tantra Meditations for Couples and Singles
Exploring ancient breath work techniques and topics including sexual energy, desire, shame, and fear, this tantra audiobook is a collection of meditations to help deepen one's understanding and embodiment of tantra.
These meditations invite us to open the heart and quiet the mind as we expand our capacity for true intimacy and togetherness.
Suitable for practice with a friend, a loving partner, or on one's own, these recordings help us to safely and sacredly deepen our relationships – both inner and outer.
As the mind quiets and the heart space opens, the nervous system settles and we find ourselves attuned more fully with the sexual energy that flows through us.
​
14. Tantra: Cult of the Feminine
Tantric ideology is a widely practiced system of beliefs often overlooked in the West. It is known for its emphasis on sexual practices, but it is a lot more than that.
In this book a well-known Tantric author, Andre Van Lysebeth, presents a thorough and modern exploration of the teachings and symbolism of Tantra. Tantra: The Cult of the Feminine was first published in 1992 and today is considered a classic on the subject.
Inside the book we'll find detailed and contemporary explanations of Tantra, including meditations.
15. Tantra Exposed: The Enlightening Path of Tantra.
Tantra is a path towards transformation, transcendence and integration, but very often it is misunderstood as a form of "spiritual sex". Tantra should be presented openly and honestly instead of  being shrouded in mystery.
This book has got nothing to do with westernized, sexualized version of Tantra or the intellectual version found in dense, scholarly texts.
Tantra Exposed offers a new and revolutionary approach to using Tantra, provides powerful tools that go beyond simple instructions and guide you towards awakening your highest potential.
The wisdom contained within these pages can help to transform negative beliefs and blockages thus leading to true freedom.  
Other books worth checking out
The Way of the Superior Man: A Spiritual Guide to Mastering the Challenges of Women, Work, and Sexual Desire
In The Way of the Superior Man, Deida delves into the crucial topics that men face, including career, relationships, love, and spirituality.
This bestselling book serves as a guide to living a fulfilling and authentic life as a man, with practical advice to help you embrace your masculinity and achieve true freedom.
Follow Deida, a renowned expert on sexual spirituality, as he provides clear guidance and body practices to help you live a life of integrity without compromise.
The Enlightened Sex Manual: Sexual Skills for the Superior Lover by David Deida
The Power of Tantra Meditation: 50 Meditations for Energy, Awareness, and Connection
Ecstasy Through Tantra
I hope the books on this list will give you the inspiration you need to enrich your life with tantra.
Whatever your spiritual or religious background, the teachings available to you in these texts can be transformative and illuminating.
Don't shy away from tantric practices because of a mistaken conception that it requires you to let go of your morals and values and engage in any kind of activity that makes you uncomfortable.
That's not what tantra is all about.
Instead — as the books above all explain in one way or another — tantra is about energy, connection, and getting in touch with your true self.
​Allow yourself to connect with your body as a tool for spirituality. Allow yourself to acknowledge the power of your own energy. 
And embrace the opportunity to connect your energy with the energies around you, and tap into the divine power of desire. 
​
​
​You may also be interested in:

1. Best Books on Minimalism

2. Best Books on Meditation

3. Best NLP Books

4. Short & Valuable Life Lessons

5. Positive Affirmations For Women
​
​
​